OIL & GRAIN | ISSUE 31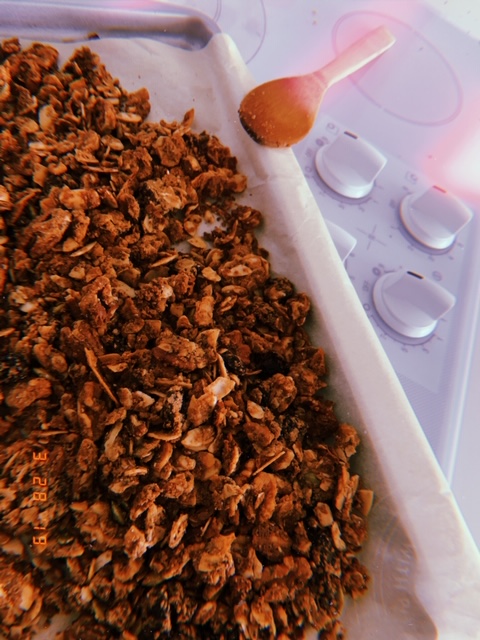 [try not to eat it all at once]
So delicious you won't even notice there are no oats or grains in it!
Ingredients:
1⁄4 cup walnut halves
1⁄4 cup pecan halves
3 tbsp unsweetened shredded coconut
1⁄2 cup raw sliced almonds
3 tbsp dried cranberries
2 tbsp pumpkin seeds

1 tbsp ground flaxseed
1 tbsp chia seeds
1⁄4 cup almond butter
2 tbsp maple syrup (you can use less if you're watching your sugar intake or omit it completely)
1 tsp cinnamon
PUTTING IT TOGETHER:
Preheat oven to 350 degrees F and line a baking tray with parchment paper.
In a large bowl, stir together the walnuts, pecans, coconut, almonds, cranberries, pumpkin seeds, ground flaxseed, chia seeds, and cinnamon. Set aside.
Put the almond butter and maple syrup into a saucepan and place it over medium heat. Stir until melted and well combined (not long; about 1 minute).
Pour the almond butter mixture into the dry ingredients and stir until the mixture is well coated. Spread the mixture on the prepared baking tray, press down, and put in the oven for 16 minutes. After 16 minutes, toss, and cook for approximately 3 more minutes or until golden brown.
Remove from the oven and let the granola cool on the baking tray. Once cool, gently break up the granola into clusters and store in a jar or tupperware for up to 2 weeks.
[original recipe from NoBread]